About Ray
Background Information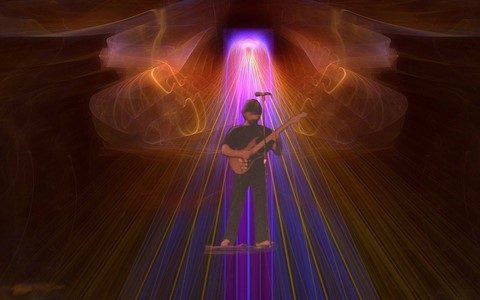 (This page is a pre-release space-holder.)

Prior to discovering my higher purpose as a spiritual teacher, music was my life.
As an accomplished multi-instrumentalist, composer and song writer, I took an extended break from playing music to focus on my career as a spiritual teacher.

For too long, my songs and compositions had remained unfinished, or not-recorded, or poorly recorded. I even had some good recordings of poor performances.
I just didn't have any recordings that did justice to the music's potential. The recordings sounded nothing like the music I heard in my head!

In recent years, I started to revisit my music. I'm now in the process of finishing the music that was not complete, and recording better versions than what I had. At long last, I am happy to finally be able to share some updated and improved recordings of my music with you!
I will update this site as I get more songs ready to share, so check back.
Co-Creating Music with My Younger Self
Many of these songs I had started when I was a much younger musician – over 20 years ago. I had some good ideas for parts of various songs, but at the time, I couldn't bring through complimentary music good enough to finish them.

Now in recent years, as I re-listen to some of this music, I remember most of it right away; and yet there were a few ideas I forgot that I had done! So in a sense, it's like I was seeing it anew, as a new person – the person I am at this age. So it really is a co-creation process; I have been co-creating with the ideas that my younger self came up with.

My younger self has given me some real gems to work with; now it's up to me to complete that music with something that is worthy.
I guess I had been so far removed from music that I was simply hoping I could salvage as much of my music from my "in shape" days as possible. To my surprise, I've been writing some new stuff as well – and liking it!

While I used to be a much better musician and performer, I'm now a much better recording artist than I used to be. So although I have lost a lot of technical proficiency as a performer, I've gotten a lot better as a recording artist. I'm enjoying a fulfillment as a composer/producer that I did not have back then. That's worth celebrating.


Testimonial
Ray has brought his trademark creativity to a wide range of style and genres. It's been a privilege to be able to play on his music with him.


Clutch Wiener - New York